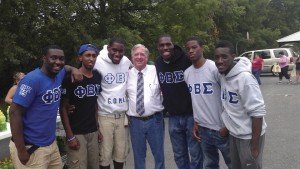 From The Oswegonian:
By Gina Clawson (Staff Writer). Photo by Castelli Laflotte
On the first Saturday of every month, the fraternity Phi Beta Sigma volunteers at a local church to give away a truckload of food.
According to Phi Beta Sigma [PBS] President Castelli Laflotte, the fraternity truly lives by its motto: "Culture for service, service for humanity."
In that time, the group managed to distribute food to a line of about 150 people. On Saturday, the six brothers brought other Oswego State students with them to Lighthouse Baptist Church in Mexico, N.Y. to volunteer.
"We have fed over 50,000 people in the past eight years that we've been doing this," Rev. Ronald Russell said. "Every time we do this, more and more people line up. We get people all the way from Chittenango."